Contact
Use the buttons below to access information about the International Training Center in Milwaukee, WI USA. Your requests will be forwarded to the regional offices
throughout the world. Email us at office@ourgcc.com
International Office: Grace Community Church
8400 W. Beloit RD.
West Allis, WI 53227
Samuel and Daniela Mitrofan - Bucharest, Romania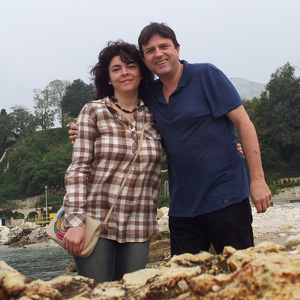 Samuel Mitrofan was our contact for GCC's first Evangelism Explosion (EE) mission trip to Romania in 2002. He has been involved in EE for over 15 years. He is EE's National and Regional coordinator of the Balkan Area. Recently he has held trainings in Macedonia, Bulgaria, Ukraine, Hungary, Romania, and has taught "Spiritual Boot Camp" in many cities in Romania and other locations. At this time, Sammy reaches out to more cities and countries than any of our other contacts in Missions doing EE's share your faith workshops and SBC as evangelism and discipleship go hand in hand. He has been instrumental in helping us with translations in Romanian, Turkish, German, as well as Spanish. Sammy is married to Daniela, and has 3 children, Ana 17, Elisa 16, and Andrei, they live in Bucharest, Romania.
×
Click Me For More
Gienek and Jola Trzcionkowski - Rybnik, Poland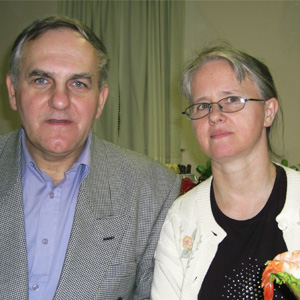 Gienek Trzcionkowski from Rybnik, Poland, was our second overseas mission contact in 2003,introduced to us through Evangelism Explosion International. He started and built his own church which he has pastored for over 15 years. He also pastors another church in Rydultowy, Poland. God has enabled his son Michael, and his wife and family ,who have also been called into the ministry, to help him. Together they make a great team in sharng the gospel and teaching discipleship through Pastor Ted Groes's Spiritual Boot Camp Book. Grace Community has teamed up with Pastor Gienek on three different ocassions to travel to different cities in Poland and the Czech Republic and have even translated our SBC materials into Polish, Czech, and Slovak. Gienek and his son have various minitries including a city wide ministry to the underprivileged children, door to door evangelism where they give over 400 packages to the underpriviliged.
Gienek has theloving support of his beautiful wife, Jola, and has another son, Emmaul who is studying enginnering and will receive his Bachlors degree in February, 2013. Gienek has a daughter, Ana who is married to John an intern Pastor at Harvest Baptist Church in Rock Hill, South Carolina. Ana is an over the phone interpreter, and works in the music ministry at the church as well as with the college group
×
Click Me For More
Negros Island, Philippines - Pastor Tim and Nida Tapang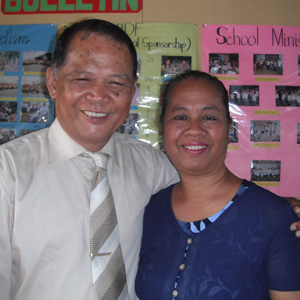 Pastor Tim Tapang is originally from Canayan, Negros Occidental, Philippines. Currently he is located in San Carlos City, San Carlos, Philippines (which is located on the east coast of the island of Negros Occidental, SE of Bacolad, which is on the west coast across the island from San Carlos). Pastor Tim and his wife, Nida, have been acting as SBC Representatives since 2006, when Pastor Groves and a short-term missions team from his church held SBC & EE conferences in Bacolad, San Carlos and Kabankalon. Pastor Tim studied at Associated Bible Institute, which is now the Berean Bible Institute. Pastor Tim knows Cebuano, Ilonggo, Tegalog and English.
×
Click Me For More
Tarija, Bolivia - Pastor Daniel and Lidia Maranon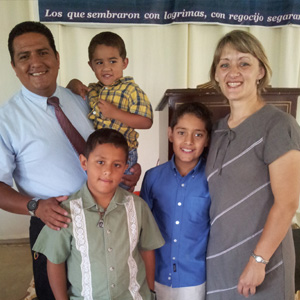 Pastor Daniel Maranon is located in Tarija, Bolivia. His church is Inglesia Bautista Biblica, "EBEBEZER." Pastor Groves, together with Samuel Mitrofan from Romania, held an SBC conference near Tarija in January of 2013. This conference was for a youth camp run by Pastor Maranon and his church. Pastor Maranon is a native of Bolivia, but his wife, Lidia, is from Romania. Lidia, acted as the translator for this conference. She attended Samuel Mitrofan's church in Romania before she married Daniel Maranon in 2000. We hope to see Pastor Daniel and Lidia acting as SBC Representatives in Bolivia and Argentina, South America. This part of Bolivia is largely Spanish speaking. The conference held by Pastor Groves and Samuel Mitrofan was the first use of the new Spanish translation PowerPoints and SBC book.
×
Click Me For More